Kiwifruit (Actinidia chinensis) is known as 'the king of Vitamin C', or 'the king of fruit', and becomes one of the important fruits. It is commercially harvested when fruit are mature and still firm, and then usually stored at low temperature to extend storage life, during which, water loss occurs. Abscisic acid (ABA) plays a role indirectly regulating ripening through ethylene metabolism. However, the information of ABA's role in kiwifruit ripening is limited and inconsistent.
The research team from Wuhan Botanical Garden investigated the inter-relationships among water loss, ethylene and ABA production, and fruit ripening by holding fruit stored at 20 ℃ for 6 d and at 0 ℃ for 16 weeks under three environments of different humidities.
Water loss induced earlier ethylene production and made fruit soften faster in the late stage of storage, but water loss and ethylene production were not tightly linked to ABA content in fruit, which was strongly associated with fruit firmness, irrespective of water loss.
In addition, ethylene content in kiwifruit was mostly regulated by the alteration of expression levels of AcACS1 and AcACO1 genes, while ABA content was strongly associated with up-regulation of AcNCED4 gene.
However, the precise role of ABA in fruit softening under postharvest dehydration, either directly or indirectly regulating ethylene metabolism is yet difficult to ascribe.
The study entitled "The role of ethylene and abscisic acid in kiwifruit ripening during postharvest dehydration" is recently published in the journal Postharvest Biology and Technology. Associate professor HUANG Wenjun from Wuhan Botanical Garden is the first author, and Professor Burdon Jeremy from The New Zealand Institute for Plant and Food Research Limited is the corresponding author.
This study was supported by a scholarship from the Chinese Academy of Sciences, and also the fund 'Premium Kiwifruit' from The New Zealand Institute for Plant and Food Research Limited.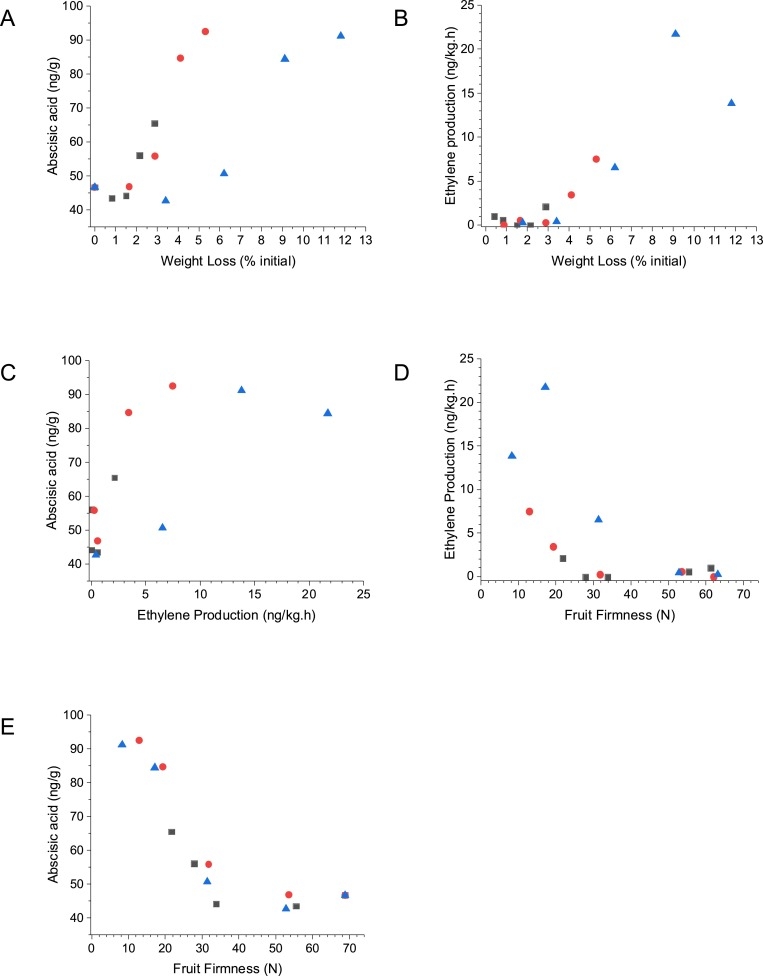 Association between weight loss and ABA (A), weight loss and ethylene production (B), ethylene production and ABA (C), and between fruit firmness and ethylene production (D) and between fruit firmness and ABA (E) for 'Hayward' kiwifruit during long-term storage under high (■), medium (●) and low (▲) humidity for up to 16 weeks at 0 ℃ (Image by HUANG Wenjun)