Soil bacteria, the most abundant and diverse group of microorganisms, mediate most of the soil ecosystem functions, including soil organic carbon and nitrogen decomposition and mineralization, along with the associated greenhouse gases emissions. A wide range of evidence has suggested that the variation in the bacterial community taxonomic composition not only is a response to environmental changes but also a predictor of the ecosystem function and process. As soil microorganisms are very susceptible to environmental changes, a thorough understanding of the effect of soil environmental change on soil prokaryotic community composition and function is urgently needed.
Supervised by Prof. CHENG Xiaoli, YANG Fan, a doctoral student of Wuhan Botanical Garden, investigated the spatial variation in the structure and assembly of the bacterial community in the water level fluctuation zone of the Three Gorges Reservoir.
Soil prokaryotic community diversity declined gradually from upstream to downstream, and the alpha diversity was higher in the top soil than the deep soil in all sites. Flooding significantly enhanced the prokaryotic community diversity compared to the control (i.e. permanent dry zone). The prokaryotic community exhibited a shorter averaged path distance in the flooding zones compared with the control, with the shortest average degree and the least stability in longer periodic inundation zones.
This study suggested that the water submergence significantly increased the prokaryotic community diversity compared to that of the control, which also led to less niche differentiation and less community stability in intertidal zones.
This research was financially supported by the Strategic Priority Research Program B of the Chinese Academy of Sciences and the National Natural Science Foundation of China. Results have been published in Science of The Total Environment entitled "Anti-seasonal submergence predominates in the structure and assembly of prokaryotic communities in the riparian zone of the Three Gorges Reservoir, China".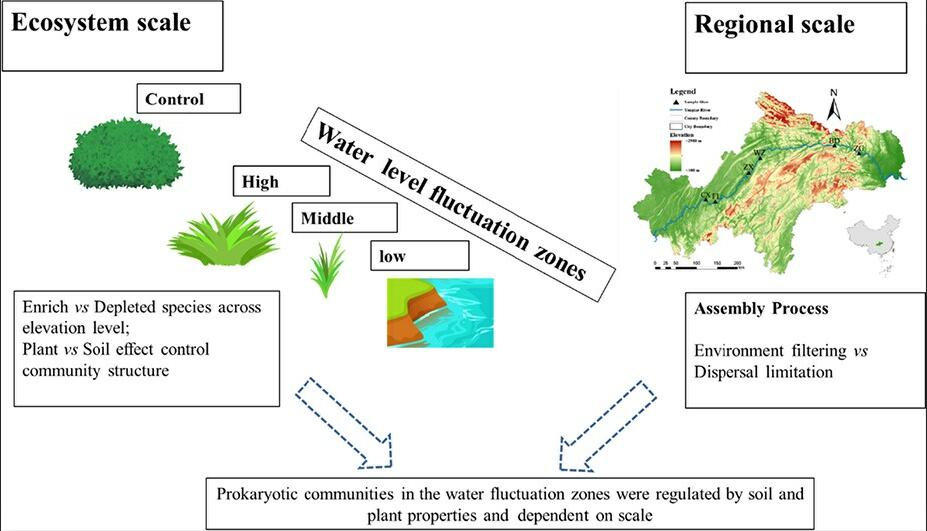 Revegetation and environmental factors regulate the microbial community structure on different scales in the Three Gorges Reservoir(Image by YANG Fan)