On June 17th, the project "Large-scale Cultivation of Haematococcus Pluvialis and Research on Product Quality Standards" jointly completed by Wuhan Botanical Garden(WBG), Chinese Academy of Sciences(CAS) and Yunnan Green-A Bio Co., Ltd was passed the project acceptance and result appraisal organized by Yunnan Provincial Science and Technology Department.
Research fellow LI Yeguang, head of Lab of Plant Biotechnology, WBG reported the research achievements on behalf of the project team: Haematococcus pluvialis which is applicable to natural alkanic water of Chenghai Lake, Yunnan Province with astaxanthin content reaching 3% of the cell dry weight was selected for the first time; Haematococcus pluvialis cultivation base was constructed in Chenghai Cultivation Farm of Yunnan Green-A Bio Co., Ltd; A complete technology for large-scale cultivation of Haematococcus pluvialis and production of astaxanthin using natural alkanic water of Chenghai Lake was set up; "zero emission" of wasterwater was realized in the production of Haematococcus pluvialis; Measurement of Broken Cyst Ratio of Haematococcus pluvialis was invented, which provided a reliable method for quality control in the production process; Standards for Haematococcus cultivation technology were set up to ensure the product quality; Three enterprise standards "Haematococcus Pluvialis Powder Food Quality Standard", "Haematococcus Pluvialis Powder Feedstuff Quality Standard" and "Haematococcus Pluvialis Soft Capsules Quality Standard" were established based on Haematococcus pluvialis product situation around the world; Haematococcus pluvialis as a new resources food was approved by Ministry of Health, China, which paved a way for the development of Haematococcus industrialization.
The experts team thought the project accomplished the target and indexes regulated in the Task and agreed to pass the project.
As a high-tech enterprise specializing in Microalgae biotechnical research, production and sales, Yunnan Green-A Bio Co., Ltd provides a good platform for the sales of Haematococcus products in the world.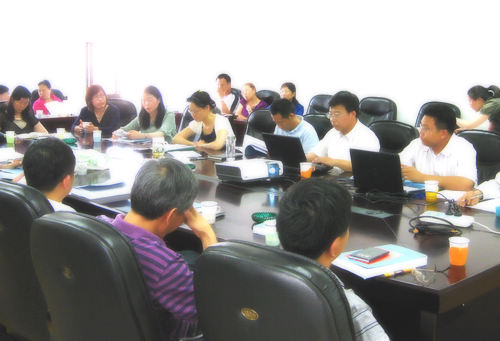 Project acceptance and result appraisal conference(Image by MEI Hong)