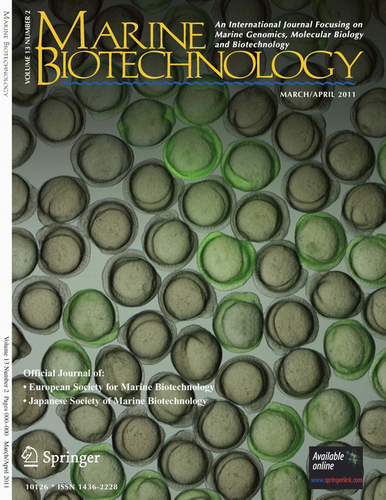 Vitreoscilla hemoglobin (VHb) transgenic zebrafish embryos labeled with eGFP and sibling control.
The paper 'Vitreoscilla Hemoglobin (VHb) Overexpression Increases Hypoxia Tolerance in Zebrafish (Danio rerio)', finished by researchers from the Research Group of Fish Gene Engineering at Institute of Hydrobiology, Chinese Academy of Sciences (IHB) and College of Life Science at Peking University, was published in Marine Biotechnology on April, 2011. (2011, 13 (2): 336-344).
Researchers have achieved the transgenic zebrafish lines stably expressing VHb, by expressing the vhb gene driven by the common carp β-actin promoter. The survival rates of the 7-day-old F2 transgenic fish were significantly greater than that of the sibling controls under 144-156 h hypoxia exposure (dissolved oxygen (DO), 0.91 mg/l). Meanwhile, the expression profiles of several marker genes under hypoxia revealed that VHb could partially alleviate the hypoxia stress response to improve the survival rate of the fish. These results suggest that that vhb gene may be an efficient candidate for genetically modifying hypoxia tolerance in fish.
Dissolved oxygen is one of the most important environmental factors in aquaculture. Other environmental factors, such as temperature, circadian rhythm, seasonal change, and eutrophication, can cause hypoxia in water bodies. And hypoxia can cause to increase mortality, to reduce growth rate, to induce endocrine disruption of fish, etc. So it is very significant to enhance hypoxia tolerance in fish by transgenic technologies in aquaculture.
Jointly supervised by IHB Prof. Hu Wei and Lin Zhongping, Professor of Peking University, the paper was finished by the doctoral students Guan Bo, Ma Hong et al. This research is supported by the National High-tech R&D Program (863 Program) and National Natural Science Foundation of China. The image related to this research is used as the original cover photograph, which is the Vitreoscilla hemoglobin (VHb) transgenic zebrafish embryos labeled with eGFP and sibling control.
Related link: http://www.springerlink.com/content/45ljx37063207614/