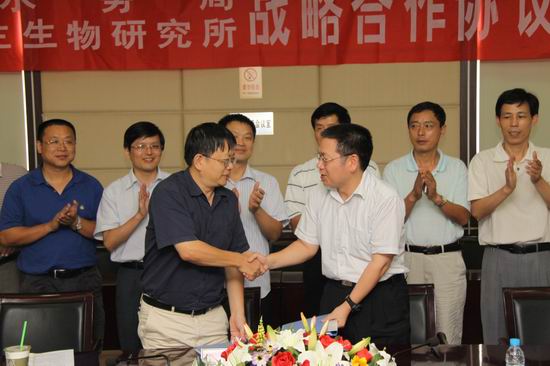 IHB's director Prof. Jindong ZHAO signed a strategic cooperative agreement with Prof. Tienbin JIANG, director of Wuhan Water Authority on August 27th in the hope that water resource conservation and ecological environment can be improved. IHB's leaders Prof. Zhengyu HU, Prof. Shouqi XIE, Prof. Xudong XU attended the signing ceremony with Mr. Hongsheng WANG, Mr. Xinhong DING and other experts and leaders from Wuhan Water Authority.
Prof. Jiang, director of Wuhan Water Authority pointed out that water resource is one of the most important resources in Wuhan and water resource conservation is an indispensable responsibility of both IHB and Wuhan Water Authority. He hoped that through the establishment of a cooperative mechanism between government and institutes, the construction of a resource saving and environmentally friendly society can be accelerated.
IHB's director said that Chinese Academy of Sciences set an important criterion for evaluation of an institute, i.e., whether the research achievements of the institute can meet the huge demand of the nation. The East Lake Water Net Construction Project is an important project aiming at building Wuhan and its peripheral localities into a resource saving and environmentally friendly society. It is our objective to make this project chosen as a water special project (the Water Pollution Control and Management Project) launched by China's Ministry of Environmental Protectionin the National 12th five-year plan for environmental protection. This project helps to promote Wuhan's competitiveness and position in the whole nation.
Mr. Jidong LIN, head of the Overall Planning Division in Wuhan Water Authority introduced that Wuhan has had achievements in projects like clean water flowing into the lakes, construction of sewage treatment facilities, river-lake reconnection, wetland conservation, water ecological monitoring system etc. IHB Prof. Zhenbin WU, head of Center for Water Environment Engineering and IHB Prof. Lirong SONG, head of Center for Algal Biology and Application jointly proposed that water environment treatment and construction of water landscape in Wuhan should be combined together.
Prof. Tienbing JIANG is professor and doctoral supervisor of Huazhong University of Science and Technology. He has been engaged in the research of water conservancy and hydropower, water resources, flood control operation etc. IHB's director Prof. Jindong ZHAO, on behalf of IHB, appointed Prof. Tiebing JIANG as a guest investigator at our institute on the same day when the agreement was signed.
On May 27th, at the gracious invitation of IHB's director, Prof. Jiang gave a lecture on the overall planning of environmental issues in Wuhan.